Luxury Vinyl Plank Flooring in Duncan, OK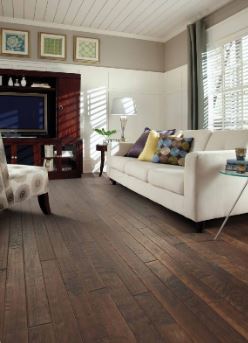 Beautify your home with fabulous new flooring. Visit Russel S. Lee Flooring America to find the finest selection of luxury vinyl plank flooring in Tuscaloosa, AL. This versatile flooring option is as visually stunning as it is tough and reliable. Plus, LVP can be easily installed over your existing flooring. Experience for yourself the unmatched appeal of luxury vinyl flooring today!
The Benefits of Choosing Luxury Vinyl Flooring
Unify form and function with this exceptional flooring option that looks fantastic in any room. There are many advantages to selecting this material. Choose luxury vinyl flooring because it is:
•Durable: Luxury vinyl flooring is crafted from composite materials, giving it a solid surface that is tough on wear and tear, while remaining easy on the feet. This flooring resists bumps, scratches, and impacts. It's a smart addition to different rooms, especially high-traffic zones like hallways, living rooms, and kitchens.
•Easy to Maintain: Luxury vinyl planks are largely non-porous. Thanks to the manufacturing process, this flooring material repels water and most liquids. As a result, spills and stains clear away with minimal energy and effort. In turn, you will spend less time and energy cleaning so you have more time to do the things you enjoy.
•Versatile: Vinyl successfully mimics the appearance of a variety of other flooring materials, such as ceramic and solid hardwood. This broadens your interior design options while keeping project costs within your budget.
The Difference between LVP and LVT Flooring
At our flooring store, you can choose between luxury vinyl plank or luxury vinyl tile flooring. Both are manufactured the same way and give you a beautiful and durable flooring option. The primary difference is their shape and the material they are intended to emulate.
•Luxury Vinyl Plank: As its name implies, LVP comes in the shape of a plank. It more often is made to mimic hardwood floors and includes realistic scraping and texture.
•Luxury Vinyl Tile: Conversely, LVT comes in the shape of square tiles. Usually, this style is made to look like stone or concrete surfaces.
Speak with one of our professionals if you have any additional questions. They will happily guide you in the right direction.
Find Your New Luxury Vinyl Plank Floors
Visit our showroom today to get started. Once you have chosen your wonderful new floors, be sure to ask about our professional installation services. We look forward to working with you on your project!